Health News
Help at hand for heart attack patients on roads
Chennai: In an attempt to provide emergency aid to those suffering cardiac arrest on roads, the Tambaram Commissionerate has installed Automated External Defibrillators (AED) at Sholinganallur signal.
The device will help in rescuing people who've suffered cardiac arrest before they are rushed to a hospital. Since timely restart with an AED increases chances of survival, officials of Tambaram Commissionerate have joined hands with NGO 'Alert' in bringing in the AED at a cost of 1.35 lakh.
As most cardiac arrests occur in public places, it is important that public facilities are available until medical help arrives. In order to educate first responders with skills to act quickly yet effectively in emergency, police personnel, the general public, autorickshaw drivers and college students will be trained to use AEDs to handle any emergency situation.
"Many accident victims suffer heart attacks due to the shock. AED will help them during the golden hour. We have planned to install more such AEDs at key sites in and around Tambaram," said deputy commissioner, traffic, Kumar.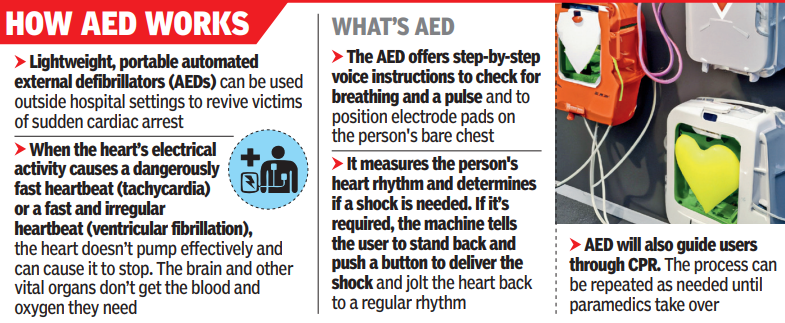 AEDs increase a person's chances of survival when regular cardiopulmonary resuscitation is not enough. Not everyone will be able to handle it until they are trained. As an automated shock machine, its role is to reverse life and restart the heart through electrical shocks, said L Sivaramakrishnan, manager, project and operations, 'Alert'.
Currently, defibrillators have been installed at Semmozhi Poonga, Tidel Park and Ice House. As of now, AEDs are located only in places like airports and malls.
Police sources said the AED machine is simplified with voice-controlled instructions and diagrams to guide users. Each defibrillator is kept in a box to prevent misuse, and a caretaker will be assigned shortly.
The battery lasts for four years and helps in saving lives of at least ten patients. This is part of Ford's corporate social responsibility initiative.