Health News
FSSAI to tighten front-of-the-pack labeling norms, Health News, ET HealthWorld
India's food safety regulator is in talks with companies to include a "cautionary warning" on the amount of added salt, sugar and fat in the front labeling of packaged foodsalongside the proposed star rating system, to help consumers make informed choices, said a senior official.
The Food Safety and Standards Authority of India (FSSAI) is in the process of framing rules for front-of-pack nutrition labeling (FOPL) of packaged foods. Its draft guidelines, issued in September, propose star ratings for food quality, among other measures.
"There should be some kind of cautionary warning to indicate how much (of a particular item) can be consumed in one day," the official cited earlier said, requesting not to be named. The "cautionary warning" could be similar to the disclaimers on the front-of-pack of liquor bottles, he said.
"We are still in discussion with the industries about it," the official told ET. "We will try to sensitize the consumers about the levels of fats (sugar and salt)."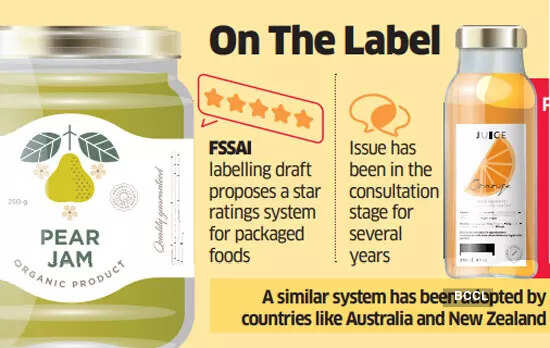 In its draft regulation for FOPL, the regulator proposed star ratings of one to five to indicate how healthy the food items are based on their salt, sugar and fat content.
The proposal, however, has been opposed by packaged food makers who say the move will hit their business.
Several types of labels were being considered, including traffic light signs, nutrition scores, health star ratings and warning symbols. However, the authority has chosen the star rating system based on the study done by IIM-Ahmedabadwhich was roped in by the FSSAI to conduct a detailed report on impact on consumers on front-of-labelling for packaged and processed foods inIndia.
A similar system has been adopted by Australia and New Zealand. FOPL is the most debated regulation for food packaging, which has been in consultation stages for several years. This was the first time such an external entity is being involved in the labeling guidelines.
The issue has been in the consultation stage for several years, with processed and packaged food companies conveying reluctance on the same and health activists seeking the strictest possible norm. While there have been multiple discussions with stakeholders, there has been no final decision yet.